THANK-YOU FOR YOUR BOOKING
Covid 19 has been a pain...
So we're really looking forward to the trip we are about to make together. Below is a briefing to help you prepare for the Bible Tour.
For the benefit of everyone on the tour we need to start on time so that we can take in all the artefacts and be finished at a reasonable time.  Please allow time to navigate security, cloak room and toilets before our 10:30am start (we suggest 30 mins). If you are late for any reason you can txt your Guide Mark on 07745 324050 and he will let you know where we are in the museum.
Here is the link for directions…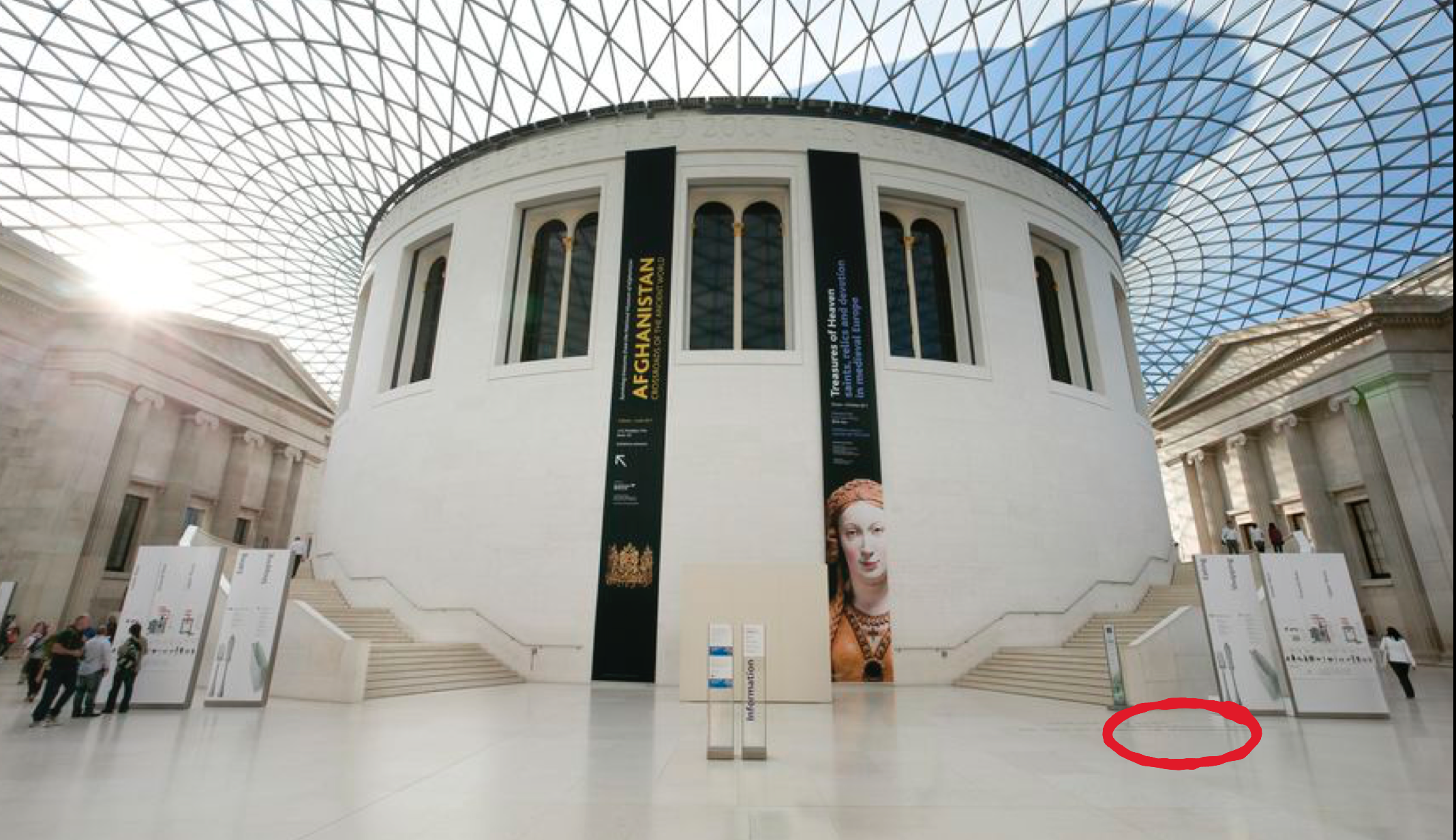 The group will meet by the red circle in the Great Court (this is a mark on the photo… it doesn't exist in real life!)
The tour guidebooks you use during the day are available for sale (£10) at the end of the day for anyone wishing to take one home. They contain many items you will not have time to view on the day. We also have Bible Timelines for sale (£5).
Although we don't walk very far we are on our feet most of the day so wear comfy/sturdy shoes. There are some 'shooting stick' style stools to borrow if you find standing/walking difficult.
It is also quite warm upstairs in the museum, especially in the summer months (because of all the spotlights) and cooler in the large downstairs galleries… so light layers are appropriate. There is a cloakroom which charges a fee for various items.
You may want to bring a camera as there are many great things to see at the Museum.
You can expect to pay in the region of £10 for a sandwich crisps and drink in the museum. However, the Museum usually turns a blind eye to packed lunches being eaten on the premises if you buy a cuppa.
We should be finished between 4:15pm and 4:45pm depending on how busy the museum is.
 We pray you will have an enjoyable day with us.
Kind regards
The Booking Team